A Deliciously easy recipe to make in a rush, It's perfect for a one person meal or a snack for kids to enjoy. The flavors from Peanut butter, Sesame oil and chilli comes together in a perfect combination to satisfy anyone.
Scroll down to Recipe time should you wish to avoid thoughts and life in general by Mama to the terrible four or you can read on.
I had a Smeogal moment with a certain object before writing this recipe post.
In case you're wondering who the Papaya (why not?) Smoegal is, he's the creature you meet in Lord of the ring whose obsessed with the ring.
To keep you guessing and avoid confusion, I'm going to be calling this object "it"or "thing"for the next few lines.
Picture me repeating "my precious"because for some reason that's how I feel every time the need for this thing arises. Besides, I'll be using it for a couple of years with my youngest, so the Smeogel-me, is here to stay for a very.long.time….(maybe another two years give or take).
For the past Fifteen years this "thing"has kept me sane.
It's small, It's soft, there's one, always in my bag and I'll say it again, It's been the only reason I continue to have a good night's sleep which in turn keeps me from flipping out due to sleep deprivation.
Its contained major disasters, I mean loads of it within. I almost never panic when kids have accidents or fall sick but not having this object will absolutely put me in a panic scale of hundred, I'll be pulling my hair, walking about muttering like a mama beast and If there is a mean side to me, you'll see it then because I LOVE MY SLEEP!
I can't count the times I've sent funny guy to buy these stuff in the middle of the night, he and I have a very public joke that goes along the line,"if we had saved all the money spent on this object, we would have been millionaires by now and he wouldn't threaten to pawn something(I won't tell what) to buy these and believe me it sound way better when he says it.
Can you guess what it is ?
No?
O.k, I hope you mama's out there agree with me when I give the answer because there is no way, no possible way I'm the only one who reacts like a mad hatter when I don't have these around.
It's the diaper, pamper, nappy whatever you call it in your country. I can't imagine how I would have got through four kids without them. From Durrah to Raaya I've probably used a million and shudder to think of the negative impact I've caused the environment.
Bother!!, I just had to go and google, found out what diapers are doing to the environment and it's not good,"each year enough disposable diapers are thrown away to fill thirty empire state buildings". Me thinks, Raaya needs to be potty trained faster than I thought.
Moving on to the recipe, for the record if my son Nadeem should come across this recipe, all credits go to him(it's a long story).
I think the time is just right with the hype on a certain type of pre-packed noodles on the news being banned due to health issues, this recipe is going to be your next substitute.
The kids love when I make it for their school lunch and the rare moments I find myself all alone and in need of a snack
I love making this noodle dish. If you are lazy to go through all that cooking this is what you can make and as simple as it is, this recipe is quite adaptable if you should want to add any other ingredient to it. It even tastes better cold.
And if you are love easy recipes, this Asian style chicken fried rice might interest you.
Allergy warning this recipe uses Peanut Butter and if any of your kids should have nut allergies, this recipe is not for you.
What you will need
4 Tablespoons of Sesame oil
1/4 cup of oil any type
1 Tablespoon of Tomato sauce
1 Tablespoon Soy sauce
2-3 tablespoons of Honey or Sugar
4 Tablespoons of Peanut butter
A box of Spaghetti Noodles
Salt to taste.
Method
Cook the Spaghetti as per instructions on the box, drain and set aside. I usually undercook by a few minutes so it's not very soft.
In a pan, add Sesame oil, Vegetable oil and Chilli flecks. Turn on the heat to low and let the oil absorb the heat of the chilli, cook for a few minutes, let it cool and strain the chilli from the oil. you can skip this part if you're feeding kids who are not fans of chilli.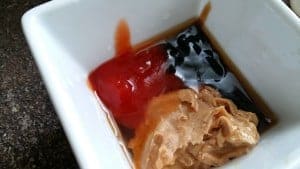 In a bowl mix, in the Soy sauce, Honey, Peanut butter, Tomato sauce.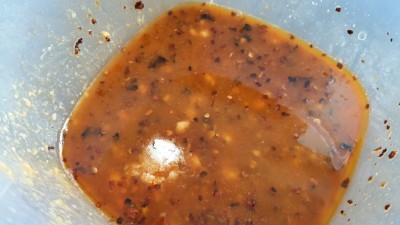 Once you've mixed everything together, add the oil as you can see I chose to leave the Chilli flecks in and add salt to taste.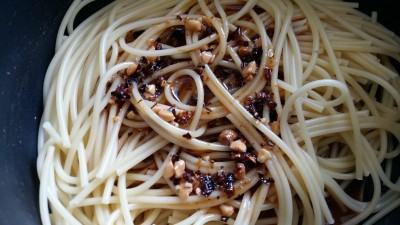 Add the sauce into the Spaghetti and mix well, making sure they are well coated if you find the sauce is not enough and dry just add another tablespoon of Peanut butter, Sauce and honey.
Mix in a few cilantro and your Spicy or not Peanut sesame noodles, is ready.

[mpprecipe-recipe:1]