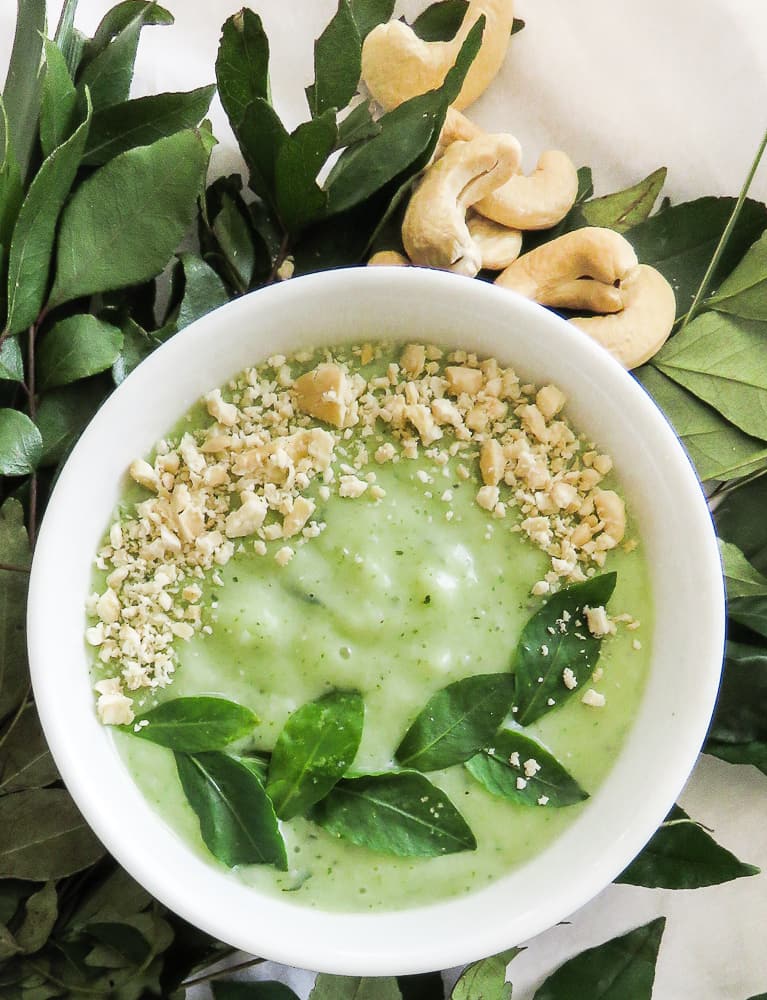 A simple breakfast smoothie bowl made with leftover Rice, Coconut milk and Cashew nuts, a healthy breakfast made in minutes.
Your typical smoothie bowl usually includes a variety of fruits and involves a bit of chopping and peeling. Why not try a herbal one for a change ?
This one doesn't need any prep work and include only four simple ingredients. you can find them in your kitchen pantry anytime which makes it the easiest breakfast to make in a rush.
I've adapted this herbal smoothie which is a hybrid version of a Srilankan drink we call "kola kanda", a porridge which is essentially made up of rice, Coconut milk and green leaves that have immense health benefits. It is a healthy street food served at small stalls, set up on roadsides so people rushing to work can have a healthy, nutritious breakfast in a cup.
The original drink includes various medicinal leaves like Hathawariya (Wild asparagus), Gotu kola (Pennywort) and a few other herbal greens that are commonly found in Srilanka. They not only provide nutrients but rejuvenate and energize our body, there's also the benefit of hair growth and works as a skin revitalizer.
Now finding these plants in a hurry can be difficult and as much as I would love to have the authentic herbal drink, it's not possible. So I came up with an easier version of the porridge for the family.
There's also another reason, kids can get excited when you say smoothie and fussy when they realize this one's not made of anything sweet, because of this I had to reduce the greens added so that they don't shut down to the idea of a herbal drink(oops! never use that word in front of them, smoothie sounds much more familiar)early in the morning.

If you can't find any of the leaves mentioned here, all you need to do is replace it with greens that are indigenous to your area. Think of greens that you might add to salads and pesto, these would work as well.

Curry leaves is an essential ingredient in Srilankan cooking. When you have a rich history in Ayurveda medicine, it's not a surprise to find Curry leaves in cooking, especially when you think of the health benefits of this garden variety plant you will find in almost any Sri lankan gardens.
They are a great source of various nutrients, helps with digestion, prevents anaemia, protects from heart disease are a few of them.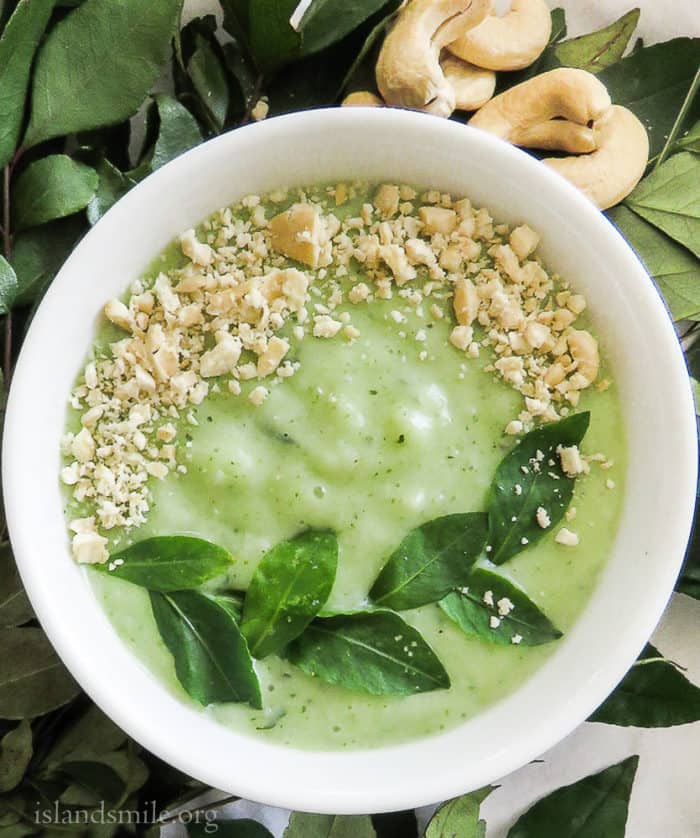 Let me show you, how easy it is to make this breakfast smoothie.
Recipe time
Ingredients
1 cup of rice( left over would do as well)
1 cup of Coconut milk
3-4 sprigs of Curry leaves
Chopped Cashew nuts
Salt to taste.
Method
Add all the following ingredients but the Cashew nuts and blend until smooth.
Check for the consistency of the smoothie, the thickness can be adjusted by adding a bit of water.
Add Salt to taste then pour the smoothie in a bowl.
Slightly warm it for 20 seconds then garnish with Cashewnuts.
Best served slightly warm.

Save
Save
Save
Save
Save
Save
Save
Save
Save
Save
Save