We were on our way to see the grand parents, with the traffic it usually takes us around forty-five minutes to get there.
Now having to spend that much time crammed in a car with boys having ants in their pants, a girl who hogs space and Miss I-want-all-your-attention, you can imagine the craziness that can take place without explanation.
Can't you?
Well, let me give you a slight glimpse of how it goes….
First we have the pushing and shoving, deciding who sits by the window then we have the one who gets thirsty, five minutes into the drive and will die if his thirst is not quenched, this means convincing big sister to share her bottle of water she carries everywhere, she's willing to give the bottle on one condition, no one's lip should touch the mouth of the bottle(this, in a moving car) or someone suddenly gets hungry and whines, depending on the traffic there might or might not be a stop for a snack.
Then we have to choose which music channels or volume to listen, The husband and I have to take turns changing channels to the whims of the older one's.
You might wonder through all this how we, the parents cope the ride from point A to point B, sadly silence while traveling is not normal for us, we tend to have our best discussions while we play dj with the car radio and half an ear on the conversations that goes on the back seat.
And then just like that interesting happens, three heads zoom in on one subject, this time it was their dad and his very bad habit of smoking.
They begin,
"Dada, why do you smoke when you know it's not good for you"
"See, how much money you're wasting! (yes, unfortunately I've got kids who are very conscious about money as I mentioned earlier all that Monopoly should have some positive effect)
"Would you like if we smoked when we grow up?"
On and on it went for a few minutes. What was the husband's reaction ?
Through it all, he had eyes on the road and chewed gum,silent.
Finally to one and all he said,"Yes, I know it's bad but I can't stop it". short and sweet.
And then the solutions poured in, there were many but Nadeem as usual gave the most original one's, his been watching brain games on discovery.
Solution 1,"Dada, when you feel like smoking think that the cigarette is a maggot, who wants to eat maggots?"
Solution 2,"think about the worst thing that can happen if you smoke, like how it feels if you dropped your i-phone and it smashed into pieces".(the boy knows how important the phone is to his dad)
If it was that simple I'll feed him a million maggots and break a thousand i-phones.
Recipe time
By now you know I'm into simple dishes with a punch on flavor. I marinated this beef for almost 24 hours, you can do it for two hours and still have the same results. Once you cooked the beef you can leave it dry but me being a gravy girl, I added a cup of coconut milk since we had Roti with the curry.
What you will need
1 kg beef (preferably beef skirts or beef cut into thin slices as the cooking time is short)
1/2 cup of tamarind
2 Tablespoons of Sugar
3 Tablespoons of Oil
1 cup of Coconut milk
2 Tablespoons of Chilli flecks
2 tablespoons of cummin powder
3 large Onions
Handful if Green chillies
3 large Tomatoes
Curry leaves
Salt to taste
Cooking
Soak the Tamarind in half a cup of water.
Add the Oil, Sugar, Chilli flecks, Cummin Powder,Tamarind Juice in a bowl and mix well.
Incase you're thinking it, yes, it does look like something out of a horror movie doesn't it?("TheBlob")
Patience pays, this is where all that Tamarind does its magic. Marinate the Beef and refrigerate as long as you can. Remember not to throw the marinated juice as you will be using it to cook the beef.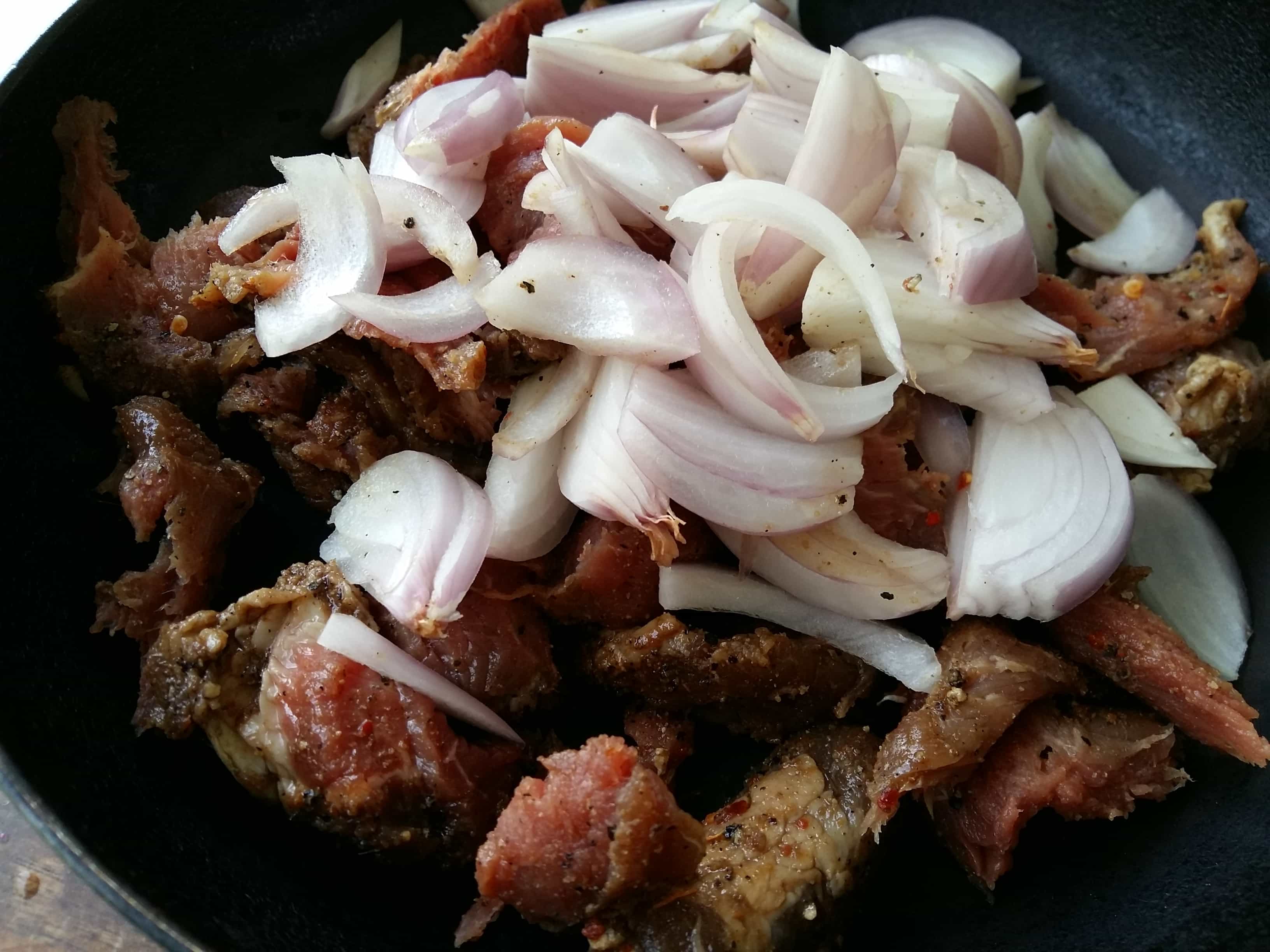 Once the marination is done, cut the beef into desired size, add a few slices of the Onions, Tomatoes, Curry leaves, oil and cook on low fire.
After five minutes add the tamarind juice and the Coconut milk, let it simmer for another 10 minutes, once the Beef is cooked (make sure the Beef is cooked completely) add the remaining Tomatoes, Green chillies, Onions and mix it into the curry before taking the pan off the fire. Finally add salt to taste.