Marinated in Tamarind juice, these chicken wings are seasoned and baked in high heat then coated with a sticky, sweet and spicy sauce.
Please scroll down to Recipe time to avoid thoughts and life in general of Mama to the terrible four or you can read on.
I was struggling with the beginning of this post when suddenly a bespectacled face appeared in front of the screen shouting"my beautiful face is back!", no, it's not my daughter but the son, Nadeem and just like that I've got my opening lines.
My two eldest, she(15) and he(14)are going through the Zit stage, call me a mean mom if you will but I'm totally enjoying their shenanigans with a straight face. I can't laugh at them because according to parenting gurus I might leave emotional scars hence the serious face when they complain about Ze Zits.
This is exactly the kind of payback for all the times they've called me OLD!
With Puberty(how long does it last anyway?) I've been expecting their tiny, sparks of rebellion,"I know it all"attitude but when they don't listen to remedies from their Mama and choose to google and experiment, well it's time for me to step back, find a front-row seat and enjoy the show.
The first time I saw her(15)with plasters on her forehead, both cheeks and chin, I thought she had hurt her face using a razor. While ignoring the snickers from the boys and laughter just about to burst forth, I asked her what's with the plasters, it seems to be one of the remedies she googled. After two days of plasters, the zits remained.
On her second attempt, I saw her yet again with yellow, dry tiny lumps on her face, she's found out that Turmeric in paste form, applied to the Zits would heal them. Nevertheless, with stains on her clothes and a yellow tint on the Zits that refused to leave after many washes, I can safely say she won't be trying it again.
On the third attempt, I almost didn't catch on but while passing her room one morning, I saw the boys peeping in, they were whispering(always a sign of troubles to come)looking over their shoulders, I see her with yet again spots but white this time, he(7)glanced and whispered"toothpaste".
Did any of these remedies work?
No, and I'm eagerly awaiting the next remedy she might find on the infinite cyberspace.
He(14) is having the same"ze zits" issue and refuses to listen. The not funny for him but oh so funny for me is the fact that all the zits are centralized on his nose, they look innocent enough now but I fear they might get worse in time.
All his remedies have been harmless. so far, its been only a hand wash and body wash but having an interest in science, I'm keeping a close watch on him and his face. Miraculously, the body wash used on the face seems to be working, hence the jubilation at the beginning of the post.
As for me, I'm just glad they are having the zits together, they can't tease each other about it, the only name-calling I've heard so far is"pimple face" used by both, at different times AND I'm waiting for that sweet moment when I get to say,
"I told you so".
Recipe time
Before you begin, read the complete recipe at least once.
Hovering behind me were four heads already deciding which pieces, how many and who gets to lick the leftover juice. I had exactly five minutes to take the necessary images for the recipe post, so no props to make them presentable.
I like to refer this as a beautiful mess with the added bonus of being delicious enough to replace any fast food appetizer.
The only thing I would recommend is having them hot, they taste better than having it a few hours later. wait. you won't have anything left to eat later.
What you will need
6-7 pieces of chicken wings
1/2 teaspoon salt half a cup of Tamarind juice
2 Cups of flour1 teaspoon of baking powder
For the sweet and spicy sauce
3 pods of Garlic grated
1/2 a cup of ketchup
5-6 tablespoons of oil
3 tablespoons of Soy sauce
2 tablespoons of Sugar
1 tablespoon of Honey
2 tablespoons of Vinegar
1/2 a cup of water
Making the Sauce
In a pan grate the Garlic, Add the ketchup, oil, soy sauce, chilli flakes, Sugar, Honey, Vinegar and 1/2 a cup of water and gently cook on low fire. Ten minutes later you should have a thick sauce, add salt to taste.
Method
Give the chicken wings a thorough wash and pat them dry, once this is done, cut the tip of chicken wings as pictured above.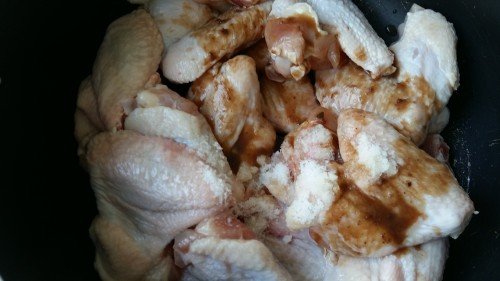 Place the chicken wings in a pan and pour in the Tamarind juice, Salt, Mix well and refrigerate for at least an hour.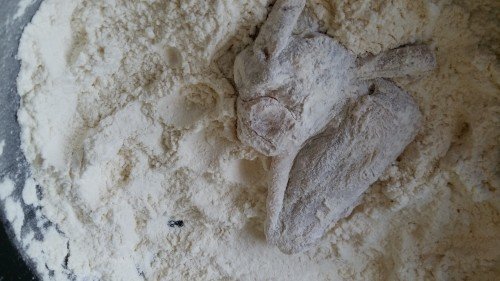 Mix in the baking powder and flour, once the chicken wings have marinated for at least an hour, coat them with flour.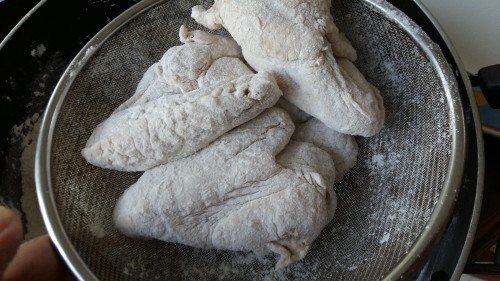 Shake out the extra flour by using a wide sieve.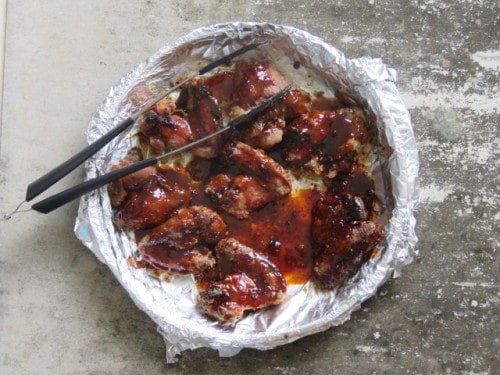 Add a few tablespoons of oil to a baking pan, place the chicken wing on it, you can also cover the pan with foil, oil it and bake in a preheated oven on 200 Celsius for at least thirty minutes , turn the wings over and cook for 15 to 20 minutes. Please note that I'm using a convection oven and sometimes find the need to cook a few minutes more or until they're cooked well.
Once the Chicken wings are cooked, pour the sauce over it and mix until they're well coated.
[mpprecipe-recipe:16]


Save
Save